I want to start off by saying Yohji Yamamoto is one of my favourite designers and his A/W 09/10 Paris collection was so gorgeous, with the architectural, brave, out-there style he always has, well always had.

I'm afraid the S/S 10 collection really, really bothers me.
It's quite different from how I would have expected it to be, first off I really dislike the hair and make-up, it's like geisha dragged through bushes and finger painted by blind children. Then also 80% of the garments leave something to be desired.
It's as if he has succumb to the mainstream-ness he has often geared away from, almost losing the edge he had. The puffy shoulders and shredded pastel parts of the collection seem one dimensional and not quite as filled with complexity as would be expected.
And that white shirt/coat is damn near unforgivable.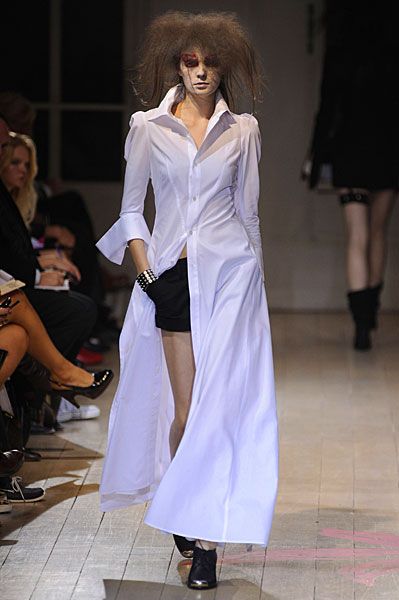 Saying all this he did have some incredible pieces, especially this leather jacket which I think is a must have for every girl right now!!
It looks amazing with the leather skirt too, and could work with a nice pair of black/grey jeans.
Then in turn would go perfect with a nice pair of ankle boots, although you'll notice, I say that with everything I like!


I'm faithful that this was just an 'off season' for him.
It wasn't the most horrible thing I have ever seen, I did love almost all of the all black looks, I just expected more. You should defiantly check out the aforementioned A/W 09/10 collection it was really beautiful. But for now here is a clip from S/S 10.





Photos found on photobucket.com, click on photos to enlarge.